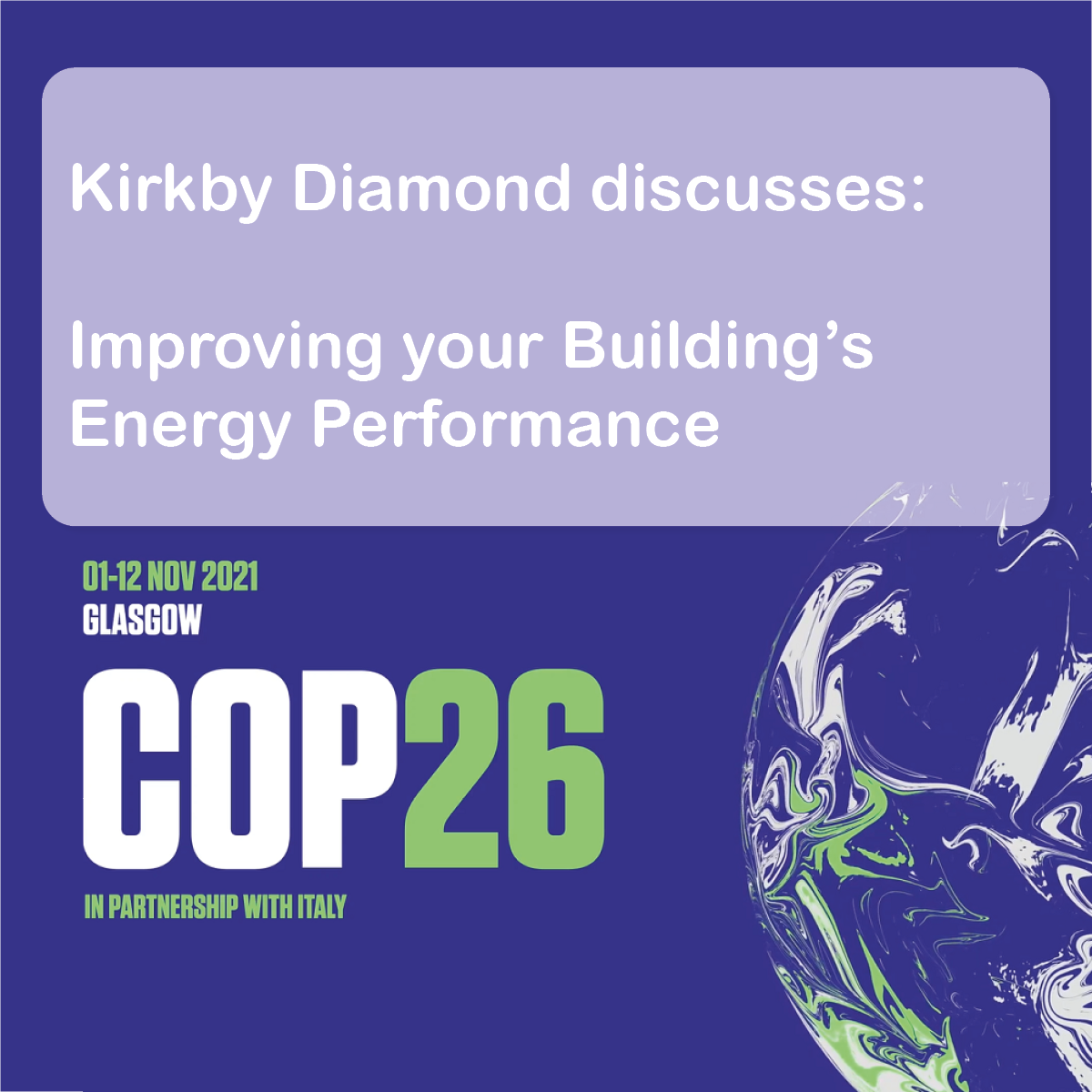 Don't COP out on Improving your Buildings Energy Performance
November 03, 2021
With the COP 26 conference taking place in November 2021, energy efficiency and the effect that buildings can have on climate change has once again been brought to the forefront of surveyor's minds.
The COP26 conference hosted by United Nations aims to reach an agreement and tackle climate change which is now a widespread global issue.
Residential and commercial buildings in the UK contribute towards over a third of the UK's Carbon Dioxide (CO2) emissions and energy efficiency improvements are seen by the current and past governments as a way to reduce the UK's CO2 output.
Commercial buildings in the UK are often built to serve a purpose, be it a shop for sales of goods, offices for business functions or industrial space for factories and storage. Whilst buildings that have been built have had to comply with building regulations and planning policy at the time, historically, little regard was given to how energy efficient buildings were. Often 1980s buildings are some of the worst for energy performance.  As commercial surveyors we will have all at one time been in an industrial unit with an uninsulated roof which is better at heating the road than the occupants of the building.
In 2015 the Energy Efficiency (Private Rented Property) (England and Wales) Regulations 2015 (MEES Regulations) were introduced, setting out deadlines for buildings to comply with the regulations. In April 2018, the MEES Regulations introduced new minimum energy efficiency standards applying to both residential and commercial property. This stipulates that landlords cannot grant new leases or renew or extend existing tenancies on properties that have energy efficiency within Bands F and G (considered substandard), unless the necessary improvement works are undertaken.
From 1 April 2020, landlords of sub-standard residential properties are not permitted to commence a lease, unless the required energy efficiency improvements are put in place.
From 1 April 2023, landlords of sub-standard commercial properties are not permitted to continue to let the property at all, unless the required energy efficiency improvements are put in place.
If a landlord continues to let a property in breach of MEES for up to three months, they will face a fine of 10% of the property's rateable value, up to a maximum of £50,000. Letting out a non-compliant property for longer than three months will result in a fine of 20% of the property's rateable value (capped at £150,000).
Typical Energy Improvements which can be undertaken to a building include:
Replacing lighting
Replace heating plant (including Air source heat pumps)
Fitting additional insulation.
Whilst these improvements can be costly for older buildings (unless the buildings are exempt), the knock-on effects for building owners can be far worse due to loss of rent through void periods and holding costs as well as high running costs.
Adam Smylie, Head of Valuation at Kirkby Diamond comments "For the last five years, our valuation reports have included commentary on buildings energy efficiency. It is not uncommon for me to visit an older building where the property has a low EPC banding of F or G. In these instances, we have to report a Nil Market Rent and make an allowance within our valuation to reflect the costs of upgrading works to ensure the property complies with MEES 2015 Regulations.
"Some of our banking clients have implemented sustainable lending policies whereby they will not lend on properties with substandard EPCs. Where buildings are being bought, some of our clients are grateful for this advice, however typically the most unaware of these issues are existing owner occupiers and their pension funds.
"In my opinion, the government and surveyors who visit building owners need to make them aware of these issues so they can proactively work to make their building more energy efficient. I would not be surprised if in the future the Government introduce additional Business Rates levies on older less energy efficient buildings which force building owners into improving their building".  
Mark Pepper, Head of Building Consultancy adds "In the last few years, Kirkby Diamond have worked alongside various clients to help implement energy performance improvements at a variety of properties. We have actively project managed larger schemes including the re-roofing and re-cladding of a 1960s industrial building where the EPC was in Band G, as well as smaller projects including refurbishment of office space which included new lighting and heating apparatus to improve the energy performance banding.
"Landlords need to be aware of these issues as improvements can have a significant impact on their balance sheets with a fairly typical energy efficiency improvement project starting at around £10,000. Larger projects that involve re-roofing can easily run into the hundreds of thousands due to rising material prices and labour shortages. Whilst this may seem like a lose lose situation for a building owner, improvement costs can however be offset by a long-term reduction in running costs or an increase in capital values".
"Kirkby Diamond is a full-service firm of chartered surveyors and property consultants. The company, with offices in Milton Keynes, Luton, Borehamwood and Bedford, works with local and national clients to offer a total solution to their surveying and commercial agency needs. For information on how we can assist you on ensuring your building is complaint with Energy Efficiency regulations please contact us.