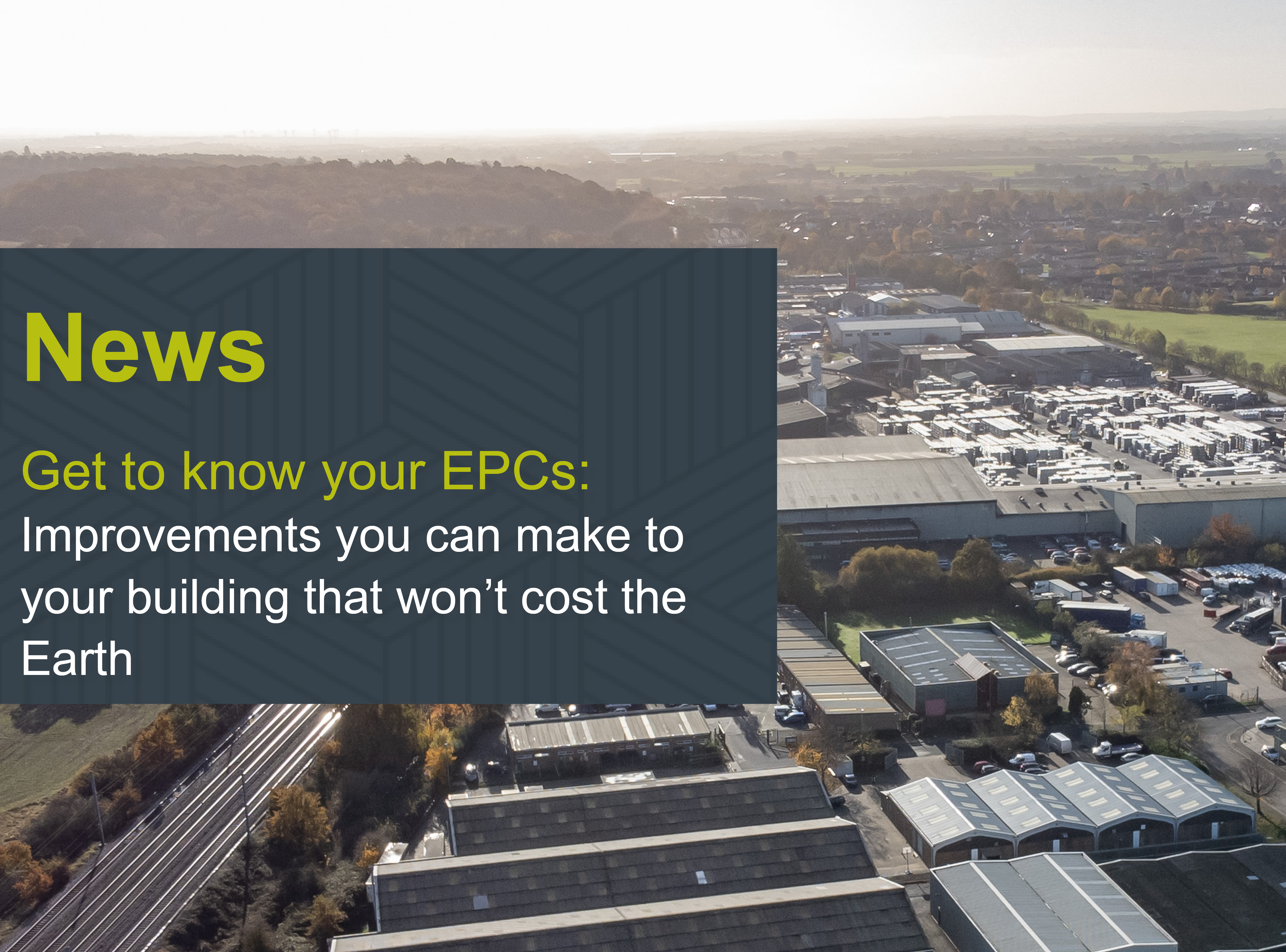 Get to know your EPCS: Improvements you can make to your building that won't cost the Earth
July 04, 2022
The world has changed a lot since 2008 when Energy Performance Certificates (EPCs) were introduced to measure the energy efficiency of commercial buildings.  With rising fuel prices increasing occupiers monthly costs, reviewing how energy efficient a building can be a great way to establish if occupational cost savings can be made.
Since legislation was introduced, EPCs have become more widespread in the marketplace with a total of 22,546,000 Energy Performance Certificates lodged in 2009 and 1,652,000 lodged in 2021 (Source UK GOV).
Minimum Energy Efficiency Standards (MEES) 2015 legislation sets out a timeline for compliance.  From 1 April 2018 landlords of buildings with energy performance bands below E were no longer capable of letting their commercial buildings until improvement works are undertaken. 
From 1 April 2023 landlords must not continue to let any buildings which are within F or G banding unless they are able to register an exemption. 
With less than a year to go until this step change in energy performance requirements comes into force, some property owners feel they may be left with a rather large bill in order to improve their property. Property owners often think that wind turbines and solar panels are the only way to improve their buildings energy performance. These options can come at great cost to owners and great disruption to those in occupation.
Property owners may not need to be as concerned in meeting band E than they first feared.  EPC band E is the third lowest rating and as a result, several potentially small changes to the nature of the accommodation can make a big difference to the Energy Performance banding.
Several key improvements include:
Replacing lighting with more modern LED lamps which if on PIR sensors can reduce the amount of energy used.
Installing point of use hot water systems i.e., multi water hot water heaters as conventional hot water cylinders create hot water which may not be used and waste energy.
Improving insulation qualities to a building's external envelope.
Installing heating control systems including thermostats to help to regulate the heat and energy consumption at the property rather than having the heating on all the time.
The cost of installing any of these improvements will be entirely dependent on the size of the property and the complexity of the installation. In some cases, it may be as simple as recommissioning an EPC. In our experience, older EPCs commissioned when the legislation was first introduced, can be unreliable. They generally made incorrect assumptions on the construction of the property. It may cost as little as £250 for a building owner to achieve a higher EPC banding just by commissioning a new assessment.

Adam Smylie Head of Valuation Services at Kirkby Diamond comments: "For many years we have commented upon the energy performance of properties within our valuation reports.  Since the restrictions on letting F or G properties came into force in 2018, our banking clients in particular have become far more aware on the impacts that this may have on their lending decisions. Many lenders are now taking environmental matters into account when committing to loan decisions. In this way they hope to improve the sustainability of their loan book with some lenders no longer lending on substandard properties.   
"If we inspect properties without EPCs we will always report the Market Rent as nil until such time as an Energy Performance Certificate is commissioned, as the property cannot be let in the open market without a valid EPC.  Where properties have EPC bands of F or G, as valuers we will consider the likely costs of improvement and make an allowance within our valuation for these works to be undertaken.
"With many mortgage lengths in excess of five years, by which time the Government intends for buildings to achieve a minimum EPC Band C (in 2027), some clients may be faced with a problem if their buildings do not comply by this date. As a valuer, all I can suggest is that building owners become even more aware of energy performance matters and work alongside property professionals to ensure that their buildings comply as legislation changes".

Mark Pepper, Head of Building Consultancy at Kirkby Diamond adds: "Unfortunately, the issue of EPCs has been somewhat neglected by property owners, put off by the possible large capital expenditure. With rising construction costs showing no sign of easing up, pushed up further due to the cost-of-living crisis, this issue is becoming more concerning to some. We have previously worked with property owners to have test EPCs commissioned (but not lodged), to see what work needs to be carried out. This eyes wide open approach has allowed property owners to make informed decisions in terms of actioning works or moving the asset on.
"Where works have been carried out, be it simple upgrades or more extensive renovations to the building envelope, the properties have become a more attractive option to potential tenants.
"Clearly meeting the requirements, which are today's requirements and may change through stricter legislation, it is important to make the most out of a seemly expensive issue. Aiming for higher standards may help reduce costs in the future. For larger property owners they are seeing this as a positive in improving their green credentials and attracting tenants with similar agendas".
Kirkby Diamond are a full-service property firm covering the home counties.  For more information on how we can help you improve your energy performance on your building or alternatively if you wish to commission a valuation to determine the value of the property pre or post improvement please contact Adam Smylie or Mark Pepper – 01582 738 866 or email info@kirkbydiamond.co.uk