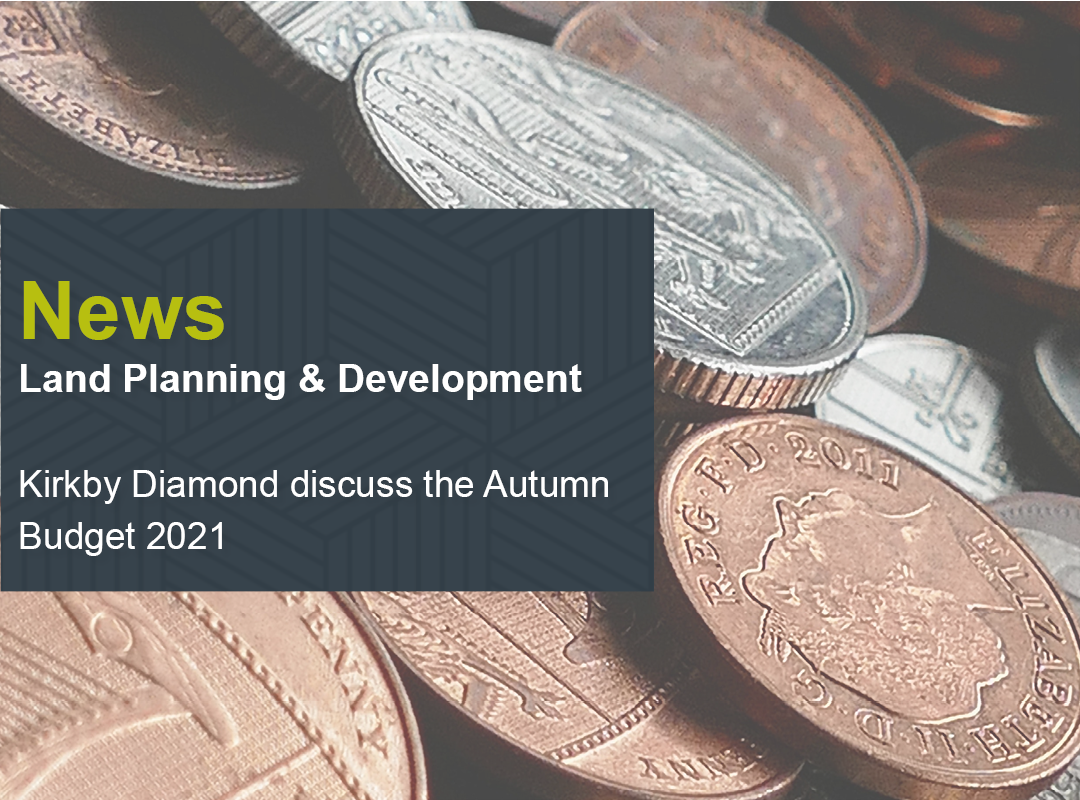 Kirkby Diamond discuss the Autumn Budget 2021
November 01, 2021
On 27 October 2021, the Chancellor of the Exchequer Rishi Sunak announced the Autumn Budget, his second since taking on the position. Whilst the majority of the Budget focused around boosting other market sectors harder hit by the Covid-19 Pandemic, there were still some property related announcements.
Real Estate Development Tax (REDT)
The REDT will come into effect from 1 April 2022 and will affect companies carrying out residential redevelopment activity. Companies will be subject to RPDT based on 4% of Residential development profits in excess of an annual allowance of £25 million a year. The additional tax levy will not apply to build-to-rent (BTR) developers, non-profit housing companies, Student accommodation and care homes.
Cladding on Residential properties
In an attempt to help leaseholders reduce the cost burden of removing flammable cladding on blocks of flats, the Chancellor has announced £5 billion in funds allocated towards the removal of dangerous cladding on residential buildings. REDT contributions will form part of the £5 billion allocation.
Housebuilding
Keen to increase the supply of new homes in the UK, the Chancellor has announced a multi-year investment of nearly £24 billion to build new homes.
In addition, £1.8 billion would be spent on developing 1,500 hectares of brownfield land. This will help to provide an additional one million new homes.
Business rates
A proposed Business Rates increase for 2022/2023 has been deferred and revaluations made more frequent, with the next revaluation taking place in 2023 (the last revaluation was in 2017).
To assist sectors impacted by the pandemic, retail, hospitality & leisure industries will be entitled to an additional year of business rates relief for 2022/2023. Affected businesses can benefit from up to 50% discount on Business Rates, up to £110,000.
Kirkby Diamond's comments:

Adam Smylie, Head of Valuation at Kirkby Diamond comments "We have been involved in several leasehold reform matters and secured lending valuations where flammable cladding has been present. This has in some instances resulted in £0 (nil) valuations and sales falling through. I am aware of some instances where my clients have been charged up to £8,000 per flat through service charges to remove cladding, which is not a sum most could afford as a one off payment. Whilst the pledge should go some way to supporting leaseholders trapped with homes with cladding, it may take some time before we see dangerous cladding removed due to a shortage of EWS1 assessors and contractors specialising in this type of work".
"In respect of Business Rates, the delayed revaluation and additional relief for certain sectors is not surprising. Whilst 2023 may seem a long way away for some businesses, we would suggest business owners be mindful of potential business rates rises and budget accordingly. Certain sectors including industrial space have seen rents rise significantly since April 2017, so there is the potential for an increase in the future rates payable".

Andrew Wright, Head of Land Planning and Development comments "Whilst we are working closely with a number of landowners to deliver residential development across the regions we operate in, there is still a shortage of suitable land for development. Many sites ripe for redevelopment are seeing deliverability impacted by local planning policies. The planning system being complex further complicates matters, meaning sites can take many years to be built out".
"The Chancellors pledge for developing Brownfield sites is an interesting one. There is not enough brownfield land in the pipeline capable of being developed. Whilst the additional funding may make some proposed schemes viable, which without it may not be possible, there is still a shortage of sites capable of development in the short to medium term".
Property matters aside, Kirkby Diamond are in favour of the reduction in alcohol duty which should help boost profits at pubs and restaurants that our staff and clients enjoy visiting.
---------
Kirkby Diamond is a full service firm of chartered surveyors and property consultants. The company, with offices in Milton Keynes, Luton, Borehamwood and Bedford, works with local and national clients to offer a total solution to their surveying and commercial agency needs.
Credit: Photo by Anthony