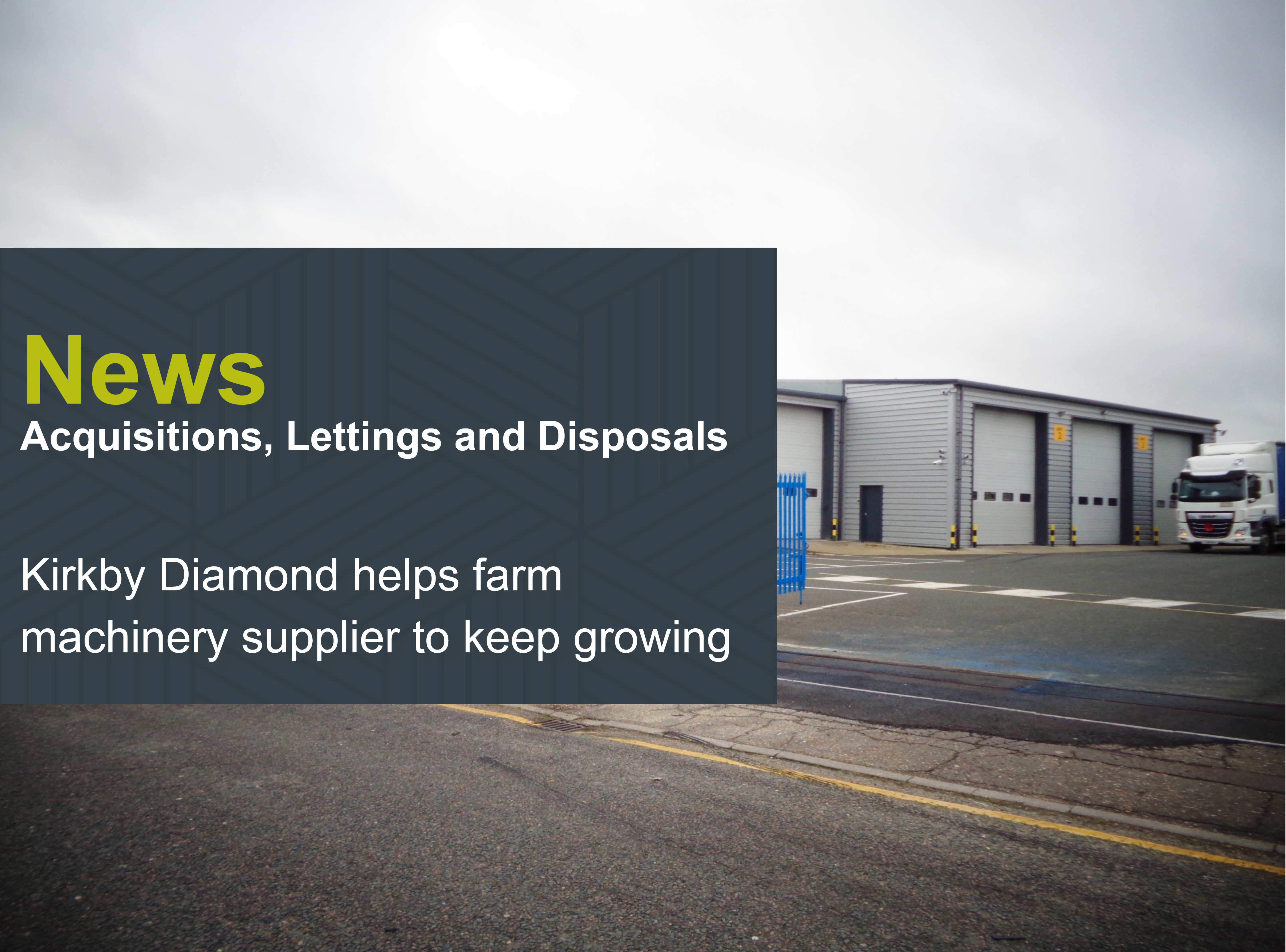 Kirkby Diamond helps farm machinery supplier to keep growing
January 26, 2023
Kirkby Diamond has completed two leasehold property acquisitions for a leading supplier of agricultural machinery to help it expand its operations across the country.
Oliver Landpower Ltd, a main JCB Agricultural machinery dealership alongside other market leading machinery brands, has agreed deals on new depots in Stratford-Upon-Avon in Warwickshire and Colchester in Essex.
Andrew Dudley, consultant at Kirkby Diamond in Milton Keynes, led the negotiations on behalf of Oliver Landpower and has been involved in a further six acquisitions for the company over the last 10 years. Kirkby Diamond provides a range of services for the company.
In Stratford, Oliver Landpower has agreed a 10-year lease on an 11,000 sq ft depot on a 4.86-acre site at Goose Lane in Upper Quinton. In Colchester, it has agreed a 15-year lease on a 9,200 sq ft depot on a 0.8-acre site at Heckworth Close, Severalls Industrial Park.
Andrew said: "It is great to see Oliver Landpower successfully expanding its operations into new territories. Our work on behalf of the company saw an existing farm machinery business acquired while we negotiated the lease terms that became part of the wider business acquisition.
"Oliver Landpower was asked to acquire new premises in East Anglia for a new JCB franchise in the area. We negotiated the terms of the lease which included a major refurbishment by the landlord as part of the transaction. Our building surveyors acted for the company in undertaking surveys to inform the lease negotiation process and preparing schedules of condition."  

The Oliver group of companies has a heritage in farm machinery going back over 200 years. Oliver Landpower Ltd was formed in 2008, from A T Oliver & Sons Ltd, to specialise in a range of agricultural, professional turf care machinery, and golf car sales and hire to the events industry. Since then it has added commercial vehicles and trailers to its portfolio.
Oliver Landpower operates from five sites - Luton, Kings Langley, Tingewick, Stratford-Upon-Avon and Colchester. Its trading area covers Hertfordshire, Bedfordshire, Buckinghamshire, Oxfordshire, Warwickshire and Essex for most of its new products, with used equipment being sold all over the UK and exported to countries around the globe.