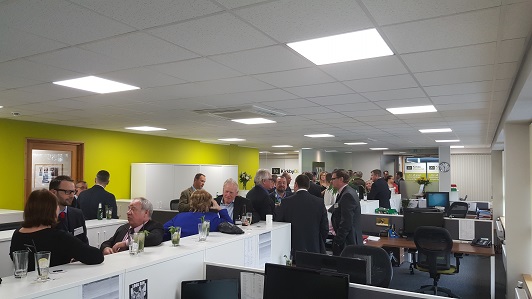 Kirkby Diamond - Office Launch
May 09, 2016
Kirkby Diamond's office launch party saw the great and the good of the property world from across the region come together under one roof to celebrate the opening of the new office.
The event, which was attended by over 100 people, provided a cocktail bar and canapés, and a pianist who entertained the guests throughout the afternoon and evening.
Luke Tillison, Partner at Kirkby Diamond commented "It was great to see so many old and new faces. The sheer number of people in attendance is testament to all who work here."
The office, which underwent extensive refurbishment and works over the past 6 months, has been designed to reflect the identity of the firm. It provides bright, open plan, modern office space, designed around the staff to ensure open communication lines and the promotion of teamwork.
Andrew Wright, Managing Partner said "I'm immensely proud of what we have created here. The office represents a new era for Kirkby Diamond. We are a forward thinking firm, with an enviable track record. The 4,000 sq ft of space provided here at Shenley Pavilions provides us with a great platform to continue to grow the practice."
All guests were provided with a thank you gift which included a Kirkby Diamond 'Concrete Cow' stress toy.