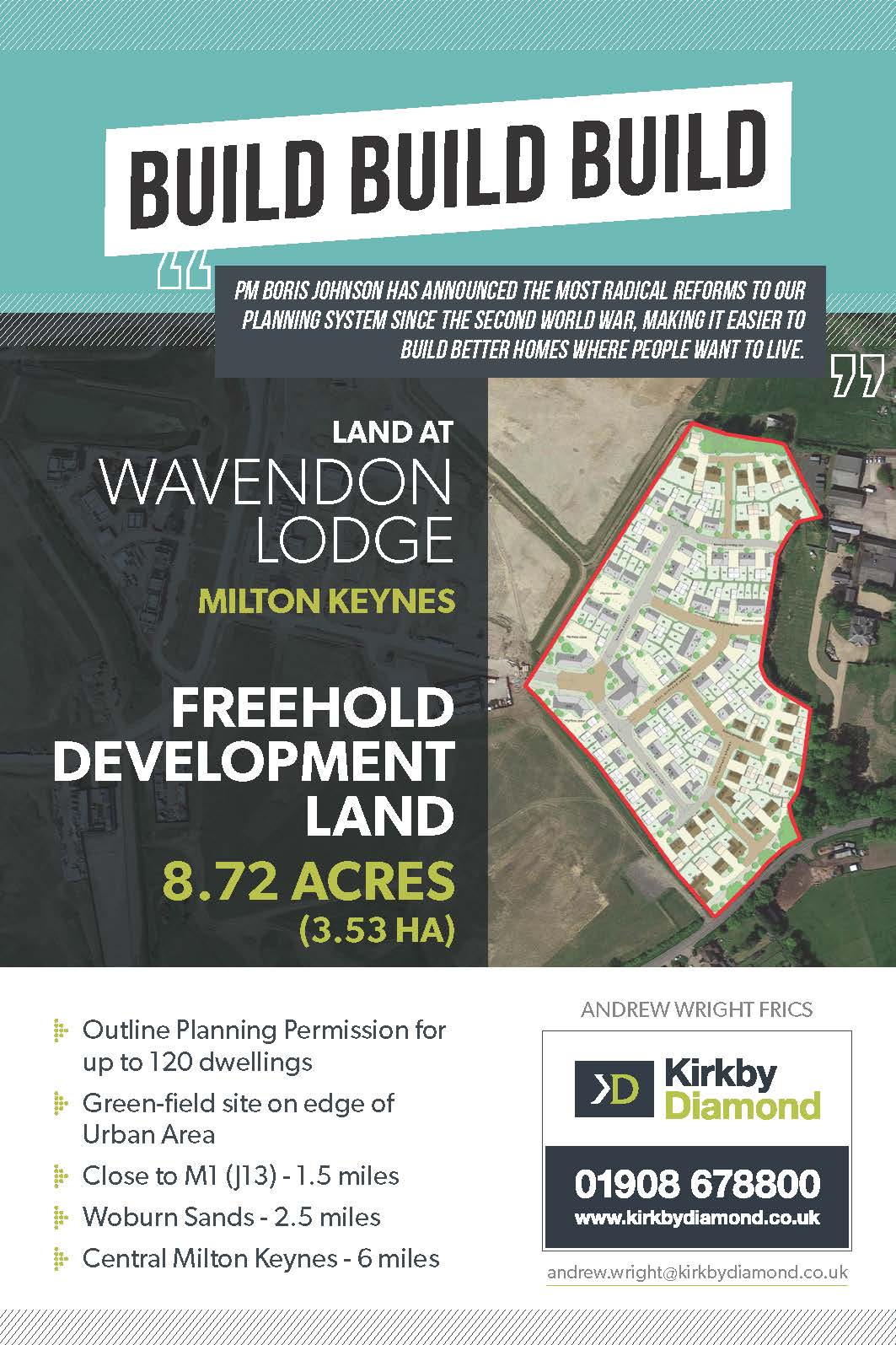 Kirkby Diamond sells homes site to housebuilder Dandara
August 16, 2021
A site in Milton Keynes with outline planning permission for 120 new homes has been acquired by leading independent housebuilder Dandara.
The 8.72-acre Wavendon Lodge green field development site is situated at the eastern end of the Milton Keynes strategic land allocation (SLA), which is currently being developed by a range of housebuilders including Taylor Wimpey, Crest, Bellway, Bovis, Bloor and Barratt.
Sold on behalf of the landowner Pioneer Real Estate Ltd by Kirkby Diamond for an undisclosed sum, it has permission for 120 new homes comprising a mix of houses and apartments. The affordable housing element is 30%. 
Kirkby Diamond senior partner and head of planning and development Andrew Wright said: "We are very pleased to announce the sale of this excellent site to leading housebuilder Dandara, which has an impressive track record of delivering high quality homes.
"It is a very well located residential development site on the edge of the urban area, with excellent connectivity and good access to local services. Wavendon Lodge is situated at the eastern end of the Milton Keynes SLA which is currently being developed. When complete, the SLA will provide up to 2,500 new homes, three new schools, retail and neighbourhood centres, play areas and extensive areas of public open space."
Chris Higgins, land and development director at Dandara, said: "It was a pleasure to work alongside the Kirkby Diamond team on our acquisition of the development land at Wavendon Lodge. We are looking forward to delivering a range of high quality homes for local people in what is an excellent location."
Milton Keynes is one of the fastest growing towns in the UK and has exceptionally high levels of employment. In recent years, economic growth has been the highest in the UK. Investment in infrastructure (East – West Rail) and dualling of the A421 along with the strategic location of Milton Keynes as a logistics hub means that growth prospects for the city remain very positive, added Andrew.
The proposed development for up to 120 dwellings, with a mix of sizes, an on-site play space and landscaping, will have access from the newly constructed spine road, neighbouring the Eagle's Rest development which is planned to provide a small neighbourhood centre and a primary school.
The site is six miles from Milton Keynes, 1.5 miles from the M1 junction 13, and two miles from Woburn Sands. London Luton Airport is just 20 miles away.