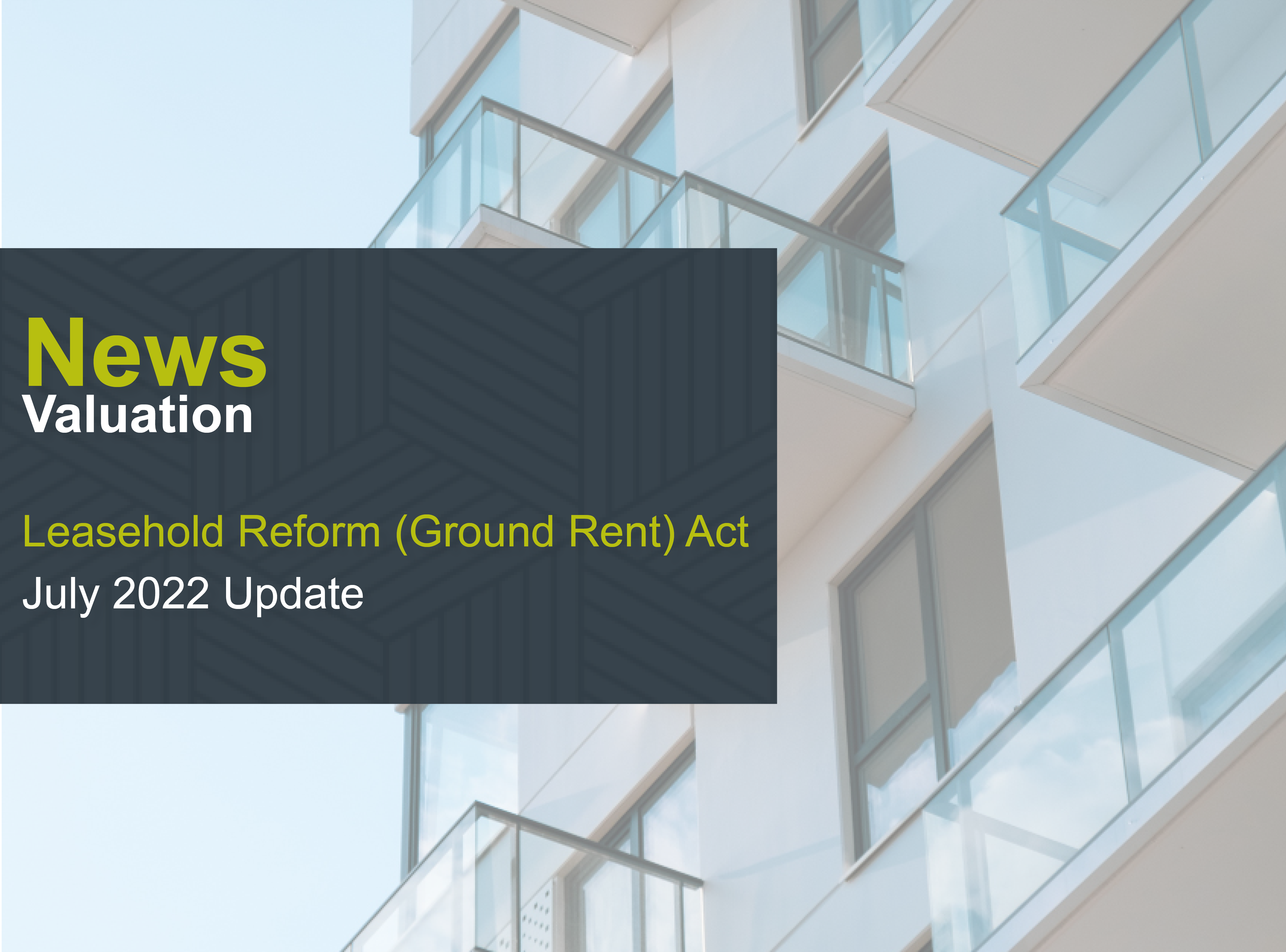 Leasehold Reform (Ground Rent) Act - July 2022 Update
July 12, 2022
Leasehold Reform Update
As we head into July 2022, we have now passed an important milestone for residential long leaseholders. On 30 June 2022, the first part of the Leasehold Reform (Ground Rent) Act 2022 came into force. Freeholders of non-retirement residential property will now either have to voluntarily grant new leases at a peppercorn rent or, alternatively, continue to charge ground rent under the terms of the existing lease and thereafter at a peppercorn for the additional lease term created through the lease extension.

What does this mean for freeholders?
The Act prevents freeholders granting voluntary lease extensions at ground rents which can often be on doubling arrangements starting at modest sums rising to thousands of pounds. By comparison, statutory lease extensions would reduce a long leaseholder's ground rent to a peppercorn (Nil) in addition to a 90-year extension to the lease term. Often long leaseholders would agree to voluntary arrangements to save money, or because they have not owned their property long enough to meet the two-year qualification period under the 1993 act.

What does this mean for the residential property market?
It is still very early days. Whilst it is unlikely in reality that a two-tier market will be created with values for flats with ground rents being significantly lower than flats without them, purchasers may decide not to buy properties with ground rents.
Banks are unlikely to prohibit lending on flats with ground rents above £250. However, if there were to be lending restrictions put in place, this may see a decline in flat values outside of wider market conditions.

Only time will tell what will happen to demand for residential ground rent investments, which have been bought by private individuals to international pension funds. As investment yields have sharpened over the last five years, we may see some softening of yields as investors see additional risk in holding these types of investments with the wider leasehold reforms on the horizon.

Adam Smylie, Head of Valuation at Kirkby Diamond comments "Since being announced, the Leasehold Reform (Ground Rent) Act has come into force in a very short timescale. This is the first of many leasehold reforms proposed by the government. With the possibility of a prescribed Deferment Rate and abolition of Marriage Value, the impact these may have on freeholders will be far greater than restrictions on ground rents.
"From a long leaseholder's perspective, whilst generally this is good news, voluntary lease extensions served a purpose if the freeholders' offers were reasonable. These voluntary lease extensions offered long leaseholders of older leases an opportunity to save money on the premiums by signing up to new leases, at ground rents in line with modern expectations.
"Whilst this new legislation is a positive step in the right direction for leasehold reform, it is a shame that the government had to intervene and prevent freeholders from charging a ground rent which has been common in the English law system for hundreds of years".
Kirkby Diamond are ALEP Members and have an active residential leasehold advisory team. For more information on leasehold extension and enfranchisement queries please contact Adam Smylie - 01582 738866 Adam.Smylie@Kirkbydiamond.co.uk
Cover photo by Jovydas Pinkevicius