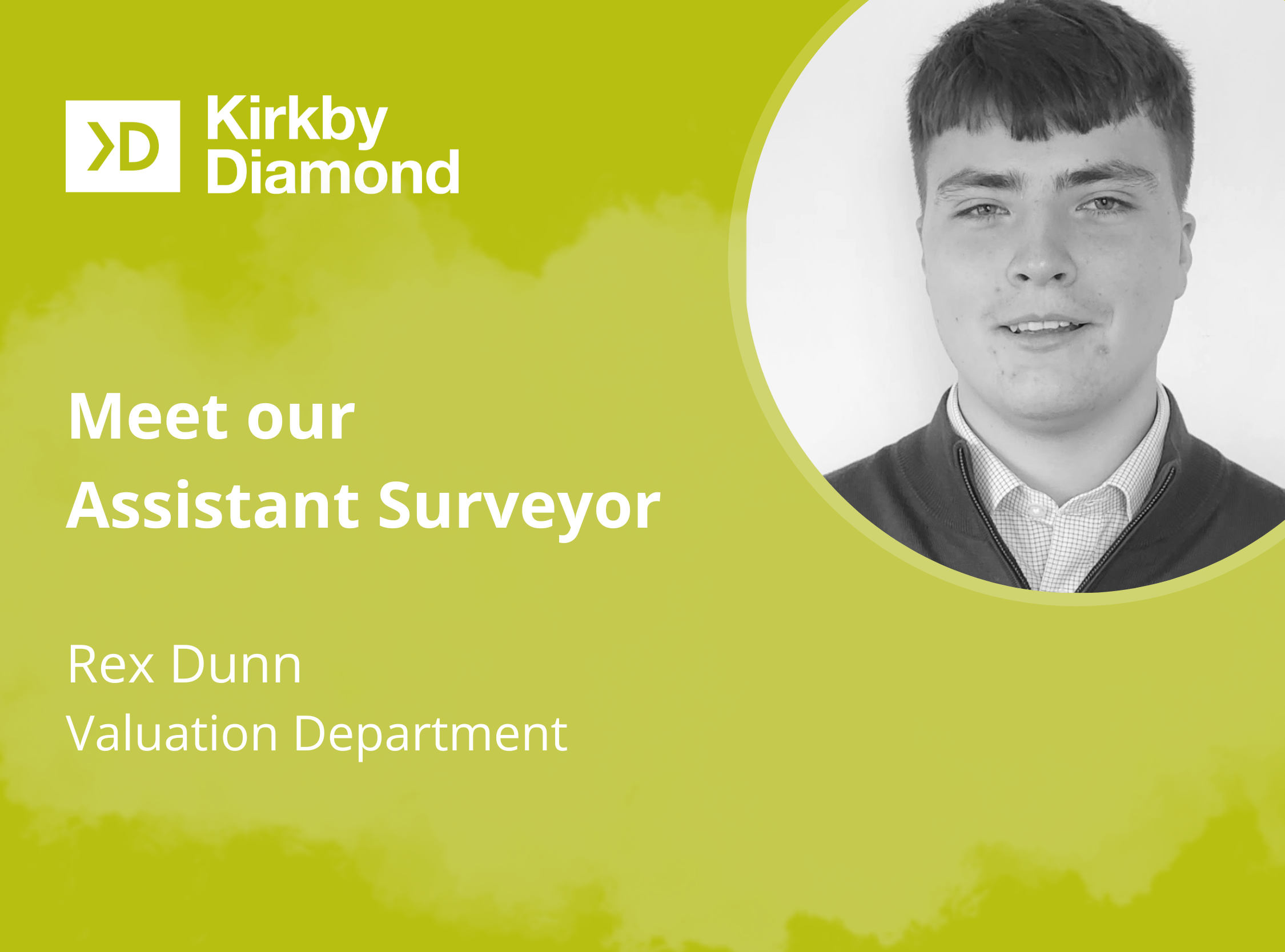 Meet our Assistant Surveyor - Get to know Rex Dunn
November 06, 2023
What does your role at Kirkby Diamond involve?
As an Assistant Surveyor my day is predominantly spent assisting the valuers in their daily duties.
In the mornings I am normally out on inspections with one of the valuers. At university I was only taught in a lecture theatre what I should be looking out for on inspections, so it is nice to finally get out there in the real world and apply this knowledge.
My afternoon is then spent reviewing our inspection notes and using these to search for comparables. Any time I have left over I will start to prepare for the following day by doing the appropriate background on properties we are yet to inspect. 
What made you want to come to KD?
Prior to me joining in July, KD opened up an office in St Albans. This was key as growth was a major pull factor for me. A lot of firms have downsized in the past year, so it was pleasing to see the recent growth at KD.
KD has a very much hands on approach, a lot of firms are now spending less time working in the office. As a graduate I wanted to be around people daily, I believe the best work happens when collaborating with others. KD's offices are open 5 days a week, but you also have the ability to work from home if needs be. The team culture here at KD is one which many firms struggle to build, so it is a delight to be part of it.
Here at KD there is a big emphasis on networking events and they encourage you to go to as many as possible. This has enabled me to grow my own networking circle, which I believe to be key to building my career in this industry.
How did you found your first month?
My first month went by in a flash but I have learnt a lot on the way. Whilst I will be joining the valuations team, I have had the opportunity to go out with various departments such as the building surveying team. This has allowed me to experience the wide range of services that KD offers as well as strengthening my knowledge in other areas. This has proven useful on various inspections as I am now able to spot things I might not have been able before.
Have you been involved in anything interesting?
In my first month I was involved in a wide range of interesting things. I have been able to assist with anything from inspections of large industrial estates to 17th century properties. Due to the locations KD operate in, there is a large variety of properties the company deals with. This makes every day so different.
Is working at a Chartered Surveyor firm what you thought it would be?
I did not know what to expect when joining a Chartered Surveyor firm, but KD have definitely made it easy to adapt into the firm from university. There have been slight differences between what I've learnt at university and what I use in my day-to-day role, but the team has been really good at helping me through the initial change in application of knowledge.
What are your thoughts on KD since joining?
KD has exceeded my expectations. The company's ethos is magnificent, and it is a real pleasure to be a part of the firm.  Everyone makes going to work an enjoyable experience which I believe reflects positively on the work we produce.
What are your plans for the future?
I should be enrolling on my APC in the coming months, which will lead to me hopefully gaining my chartered status within the next 2-3 years. After gaining my chartered status, I will then be able to start doing my own valuations. I should hope that from then I can continue to grow with KD and gain valuable experience within the industry.
What is the best advice you have been given?
"Take an interest in what you're doing" – This advice has stuck with me, and I will continue to keep it in mind during my progression into this industry.