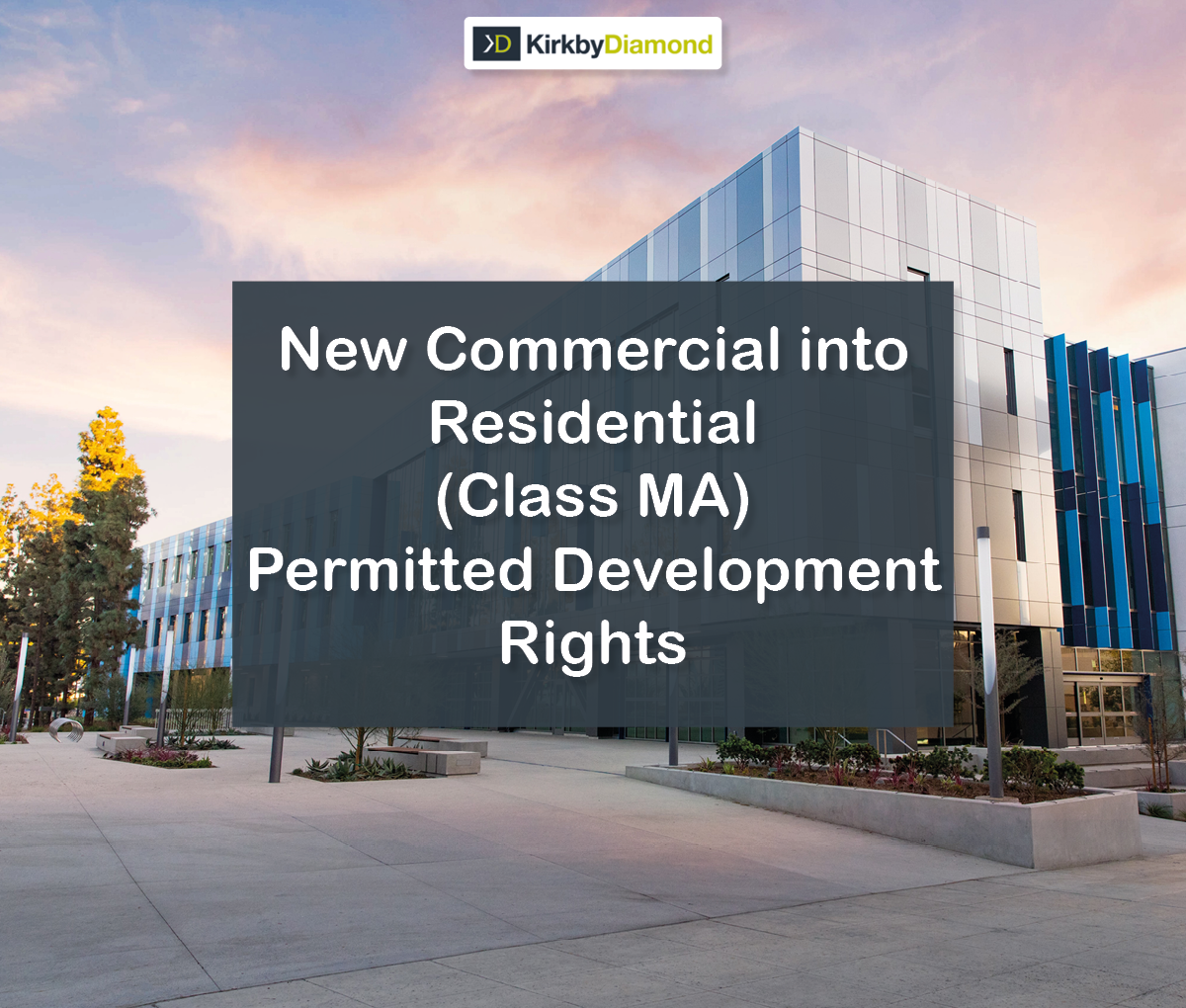 New Commercial into Residential (Class MA) Permitted Development Rights
August 19, 2021
From the 1st of August 2021, new permitted development ("PD") rights (Class MA) came into force allowing for change of use from commercial, business and service use (Class E) to residential use (Class C3), creating potential new development opportunities for property owners and developers.
What other changes have their been to Use Classes?
The introduction of new Class MA follows the reclassification of the use classes in September 2020, when Class E was introduced to replace the previous use classes of A1, A2 and A3 (retail, financial services and cafés/restaurants); B1a, b and c (offices, research establishments and light industry) and D1 and D2 (health clinics, nurseries and gyms).
In principal, the creation of Class E is an effort to support the High Street, which has been in decline for years under an onslaught from online retailing and punishing business rates. Combining lots of uses into one new use means planning permission is not required to change between them, which should help landlords and prospective tenants to be more creative in finding new uses for vacant premises.
Class B2 (general industrial) and B8 (storage and distribution) remain unchanged and are not included in the new Class MA PD rights. The industrial sector continues to fly and agents at Kirkby Diamond are reporting record highs for rents, shortages of supply and ever increasing demand in that sector.
What about previous commercial to residential PD rights?
The new Class MA replaces two previous commercial-to-residential PD rights, being Class O (office to residential) and Class M (A1 shops and A2 financial and professional services to residential), both of which have been very popular over the past 5 years, especially Class O seeing vast amounts of unused office space converted to flats across cities and towns in the UK.
What restrictions are there?
As with previous PD rights, there are some restrictions that apply to Class MA. Those seeking to utilise the new MA right will have to satisfy prior approval requirements on transport, flooding, contamination, natural light and noise.
Other restrictions include that a building must have been in use under Class E (or, prior to 1 September 2020 within any use class: A1, A2, A3, B1, D1(a), D1(b), D2(e)) for 2 years continuously prior to the application for prior approval. The building must also be an unused commercial property that has been vacant for 3 months prior to the application.
There is a maximum floor space of 1,500 square metres and any conversions under Class MA must be for residential use only and cannot be converted to an HMO for example.
In addition, development will not be permitted by Class MA in Areas of Natural Beauty, National Parks and World Heritage Sites; nor if the site is occupied under an agricultural tenancy, unless the express consent of both landlord and the tenant is obtained.

Development is however permitted under Class MA in Green Belt and Conservation Areas where it has typically been more challenging to establish new residential use in planning policy terms. This represents a significant change by the Government and will create new and interesting opportunities for delivery of residential housing.
When can applications be made under the new Class MA?

Applications under Class MA can only be made after 1st August 2021 and we expect to see momentum gathering with developers and property owners looking to take advantage of this change to diversify portfolios and maximise assets.
To discuss this further please contact one of our experienced planning consultants. Alternatively you can speak to one of our property agents to discuss any properties that are currently being marketed for sale that may benefit from permitted development under the new Class MA.