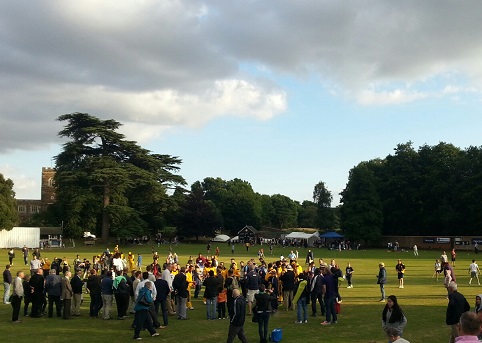 The Lashings XI Cricket - Kirkby Diamond
August 06, 2015
Kirkby Diamond sponsors the Lashings XI v Eversholt Cricket club for the second year running.
The event see's many well known former all stars of the cricket world assemble to play 30 overs. The likes of Tino Best, Phil Defreitas, Adam Hollioake and John Emburey all were in the starting line up.
Kirkby diamond took a selection of clients who had the benefit of a 3 course meal in the 'grand marquee' before watching the Lashings All-stars come into bat and promptly score over 240 runs.
The change of innings saw the likes of both Andrew Wright (Managing Partner) and Jimmy James (Associate) of Kirkby Diamond face 15 or so balls at speeds in excess of 60mph being bowled at them. Both faired well with Jimmy James Scoring a four.
A valiant battle was put up by Eversholt who managed to reach almost 150 all out, which was a fantastic effort considering the quality of the opponents they faced.
The day was a huge success thanks in part to the weather but more so the high quality cricket on show coupled with the staff.
From all at Kirkby Diamond we thank everyone who attended.