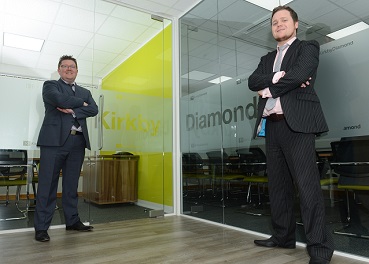 Two New Partners Appointed
February 01, 2016
Two major promotions – including one of the country's youngest commercial property partners – have been announced by leading consultancy Kirkby Diamond.
The move by the company, which has offices in Luton, Milton Keynes and Bedford, heralds the start of an ambitious programme of growth in 2016.
Kirkby Diamond is a full service firm of chartered surveyors and property consultants working with local and national clients to offer a total solution to their surveying and commercial agency needs.
Twenty-seven-year-old Luke Tillison is one of two new partners confirmed by the property specialist. Mark Pepper has also been promoted to partner and is appointed head of building surveying across the group.
Luke has been named head of commercial agency for Milton Keynes and will also have a responsibility for industrial and logistics in Kirkby Diamond's offices in Luton and Bedford.
Luke, who joined Kirkby Diamond in June 2014, said he was now looking forward to playing a major role in the expansion of the company.
"With the agency team almost doubling in size over the past two years, Kirkby Diamond is a consultancy that has demonstrated it has the expertise and gravitas to be the go-to firm in the region for all aspects of commercial property work," he said.
"The drive and enthusiasm seen here is what makes Kirkby Diamond a special place to work – people enjoy coming to work, which is what the partners strive for.
"I very much look forward to continuing the tradition of working with the junior members and seeing them through from graduate to partner."
Mark Pepper joined Kirkby Diamond in 2008 and completed his Assessment of Professional Competency (APC) exams before working his way up the property ladder.
"I'm thrilled that the existing partners have confidence in my abilities and have promoted me," he said. "To be part of an exciting, evolving and growing firm is a great reason to practise surveying at Kirkby Diamond."
Congratulating Luke and Mark on their promotions, Eamon Kennedy, partner and head of commercial agency at Kirkby Diamond, said the appointments put the consultancy on a strong footing for future development.
"Kirkby Diamond has been growing strongly and steadily and we are now in an excellent position to build on our successes with the appointment of two new partners," he said.
"Luke and Mark share our vision of growing the company and though we successfully compete with much larger corporates, we continue to retain our local roots and provide a first-class service to all our clients."