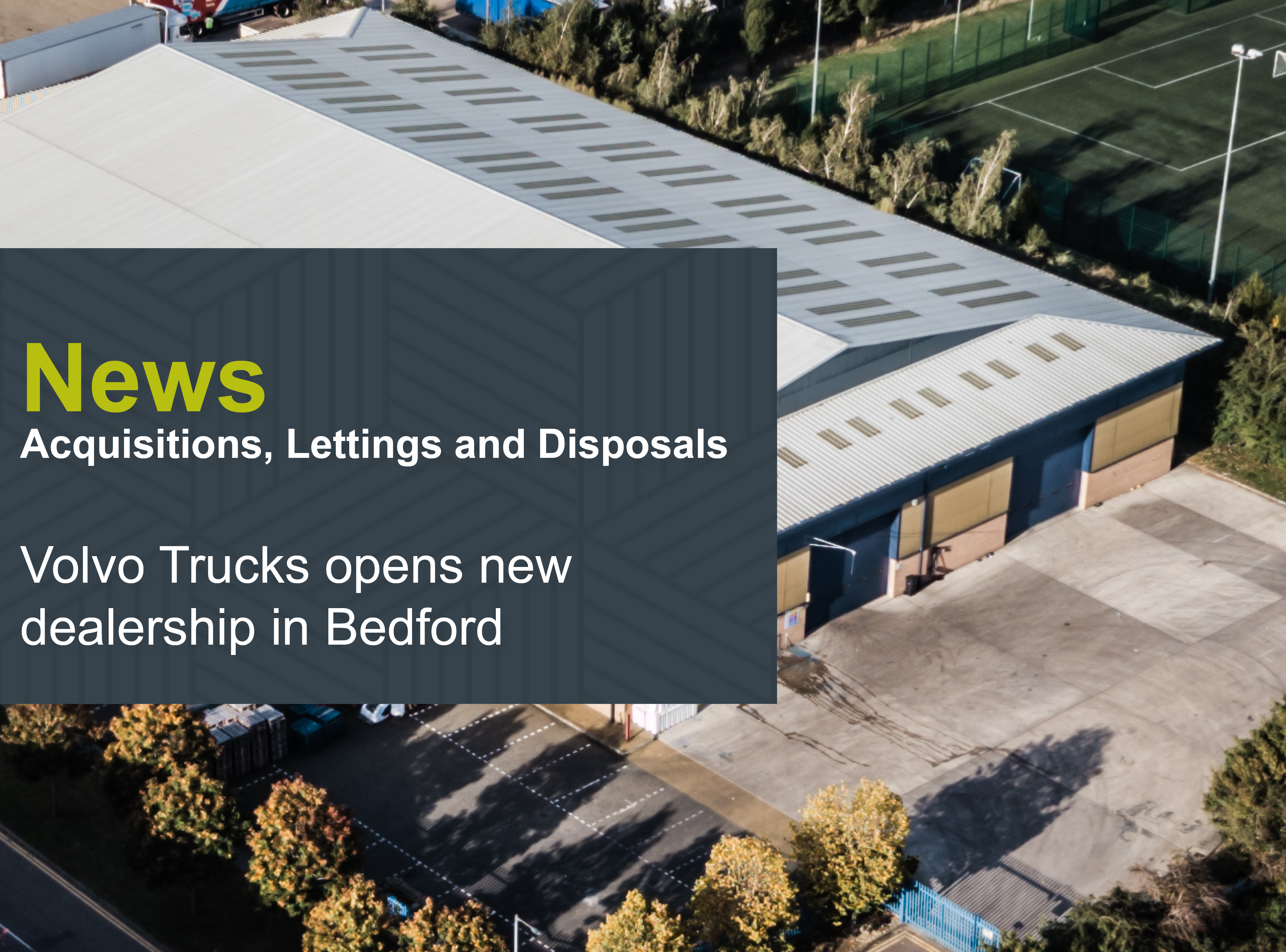 Volvo Trucks opens new dealership in Bedford
June 23, 2022
Volvo Truck and Bus Centre South & East is relocating and expanding its operations after agreeing to let an industrial unit in Bedfordshire.
After a long and extensive search, Volvo has signed a lease on a 27,602 sq ft refurbished unit at Wilstead Industrial Park in Bedford. Kirkby Diamond, acting on behalf of developer and asset manager Canmoor, secured the deal after being appointed to market two large units on the site.
The modern, standalone unit is on a secure, gated, 28-acre site which provides a variety of industrial and warehouse accommodation, from starter units to corporate headquarters.
Located off the A6 trunk road, it is just one mile south of the A421 Bedford Southern Bypass and 10 miles from junction 13 of the M1. Companies with distribution centres nearby include B&M, Asda, Holdsworth Foods and Amari Plastics.
Eamon Kennedy, head of commercial agency at Kirkby Diamond, said: "Attracting an occupier of the quality of Volvo Truck and Bus Centre South & East to Wilstead Industrial Park is a real coup for Canmoor and Kirkby Diamond. Their arrival will bring investment and potentially new jobs to the area."
He added: "We were instructed to market the unit by Canmoor, and within two months we had it under offer, which clearly demonstrates our outstanding knowledge of the local market.  We also have unit 31 under offer and this is expected to complete soon. It was a pleasure to work with Will Preece and his team at Canmoor, along with Volvo Trucks and Richard Hardy, of Bromwich Hardy, who represented the company."
Christian Coolsaet, managing director at Volvo Trucks UK & Ireland, said: "Our Milton Keynes team had previously been based on a shared customer site for more than 25 years, but as our local operations continue to expand it was the right time to move into our own depot.
"Geographically, it's perfect for our network and we've been able to tailor the configuration of the workshop to cater for both current and future needs, supporting diesel, LNG and electric fleets."
It has been fitted out with full length workshop bays, equipped to service and maintain the complete range of Volvo trucks and buses, as well as handling all makes of chassis, body work and trailer servicing. The dealership also benefits from its own ATF lane, plus offers brake testing, headlight bean setting and tachograph and speed limiter calibration and fitting.
Will Preece, of Canmoor, said: "We are delighted to welcome Volvo Truck and Bus Centre South & East to Wilstead Industrial Park, Bedford. Wilstead's close proximity to the A421 provides occupiers with direct access to the national motorway network and reinforces the park's excellent connectivity to both the Southeast and the Midlands. Attracting a business of this magnitude is a huge boost for the park and we look forward to working closely with Volvo to best facilitate their growth at Wilstead."