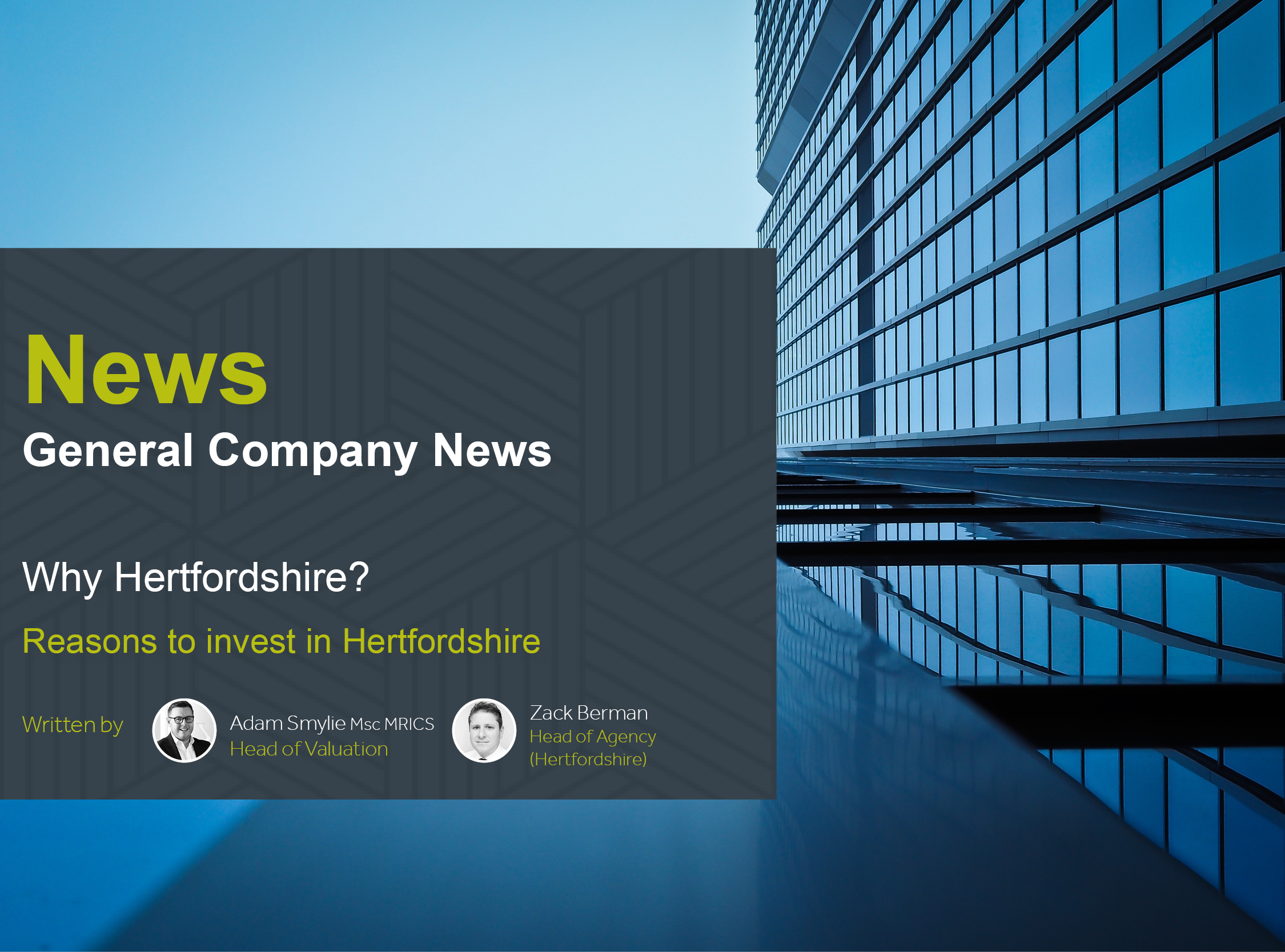 Why Hertfordshire? Why you should invest in Hertfordshire
January 16, 2023
Why Hertfordshire?
Hertfordshire is one of the Home Counties in southern England. The county borders Bedfordshire, Buckinghamshire, Cambridgeshire, Essex and Greater London. Hertfordshire has a population of 1,195,672 according to data from the 2021 census, which represents an increase of 7.4% since 2011.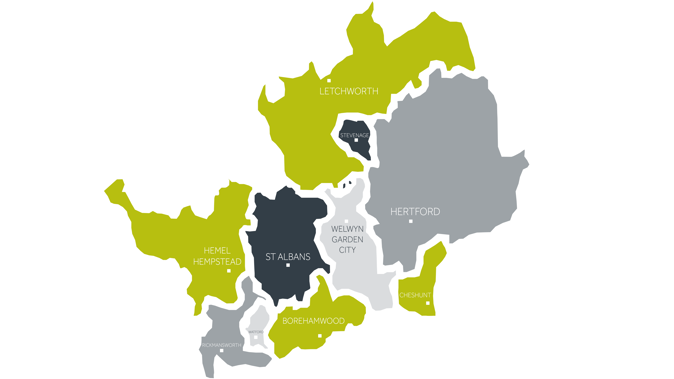 Well connected
Hertfordshire being situated North of London is a strategic location for many businesses, due to its excellent road and rail links which are key economic drivers.
The county is served by three arterial roads all accessed off the M25 that act as market corridors.
To the west, important towns and cities along the M1 corridor include St Albans, Hemel Hempstead and Watford.
Along the A1 corridor important towns include Stevenage, Hitchin, Letchworth Garden City, Welwyn Garden City and Hatfield.
Hertford, Ware and Cheshunt are all situated to the east along the A10 corridor.
Offices across the region are occupied by a mix of national and international businesses including Tesco, TK Maxx and ASOS, which all have headquarters in the region.
Leasing Activity
According to research by Costar Group, offices in the Hertfordshire market total over 25 million square feet and it is the fourth largest office market in the South East, after London, Berkshire, Hampshire and Surrey.  
Whilst demand for office space has fallen in line with the wider market, vacancy rates remain at 6.80%, which is below the national average for offices. Leasing activity has increased post-pandemic with retailers taking on HQ buildings in the region.
Recent deals include:
Signet taking 20,000 sq ft of space at Croxley Park, Rickmansworth.
TK Maxx took occupation of their new 210,000 sq ft HQ on Clarendon Road Watford in 2021.
Other notable deals include:
Aecom securing a pre-let at 10 Bricket Road, St Albans, a 20,000 sq ft office in late 2021.
Skanska taking occupation of a newly refurbished 67,000 sq ft office in Leavesden Park in 2022.
From a public sector perspective, the Department for Work and Pensions took 17,000 sq ft at Egale 2, Watford and 15,000 sq ft at Able Smith House in Stevenage during the year.
The largest deal in Hertfordshire in 2022 to date was a letting to Freespace of 12,000 sq ft of office space at Three Rivers Park.
All of these deals, amongst numerous others, have contributed to rental growth of 3.10% post pandemic. With average rents of £23 per sq ft, office rents in Hertfordshire are some of the highest outside of London. In certain sub-markets, rents can push over £30 per sq ft, however Watford and St Albans remain the highest on average at £25 per sq ft, which reflects a £5 per sq ft premium compared to space in North Hertfordshire.
Capital Market Activity
The investment market has been impacted by the pandemic. £200 million of property has transacted since 2020, which reflects a significant drop in activity compared to the £600 million of office space that transacted in 2019.
The bulk of office investment activity was in Watford. Sentinel House was purchased at a 6.90% yield and Meridien House at 4.80%. In Borehamwood Blue Coast Capital acquired a site on Elstree Way for £26 million, equating to a 6.50% Net initial yield.
Along the A1 corridor Corum Asset Management acquired Alban Place, Welwyn Garden City for £15.3 million. 
These notable developments all account towards the 27 sales that have taken place across the county in the year to date.
Future Development
A limited amount of office space has been delivered in the county over the last 10 years, with a large amount of space being lost through conversion into residential use.  2021 was the busiest year for office development in Hertfordshire, with over 600,000 sq ft of new space being delivered, including the TK Maxx building on Clarendon Road, Airbus Stevenage and 10 Bricket Road.
Several new office developments are underway on Clarendon Road in Watford and a large mixed-use scheme is proposed at Brookfield Riverside in Cheshunt.
Adam Smylie, Head of Valuation at Kirkby Diamond comments "A lack of stock and the cost of borrowing have been instrumental in some of the low yields paid for investments in the county. Whilst new stock is coming the market, this is often off the back of pre-lets with developers in the market still cautious as many occupiers are rationalising their occupation in favour of hybrid working. With the costs of living crisis gripping the nation, this may be a turning point for the office market, with employees wanting to be office based to incur less cost in heating their homes. From a valuation perspective, some of the cases we have worked on have seen properties transacting at record levels and so long as the demand is there, values should remain stable unless a significant amount of development takes place".
Zack Berman, Head of Kirkby Diamond's Hertfordshire offices adds "Tough times are expected heading into 2023 with an uncertain future in global markets. What we can be sure of is our experience and know-how to help both landlords and occupiers limit liabilities of any impending recession. Times are challenging and we must all remain focused and positive. Most employees are back at work 3-4 days per week, which will help to reignite the retail and the office markets that have suffered. It is a good time to discover what we can do for you. You can rely on us for honest and insightful advice on achieving the best outcome for your requirements. Get in touch with our Hertfordshire Office where we would be delighted to help".
Kirkby Diamond is a full-service firm of chartered surveyors and property consultants. We have offices that cover Hertfordshire, Bedfordshire and Buckinghamshire. We work with local and national clients to offer a total solution to their surveying and commercial agency needs.