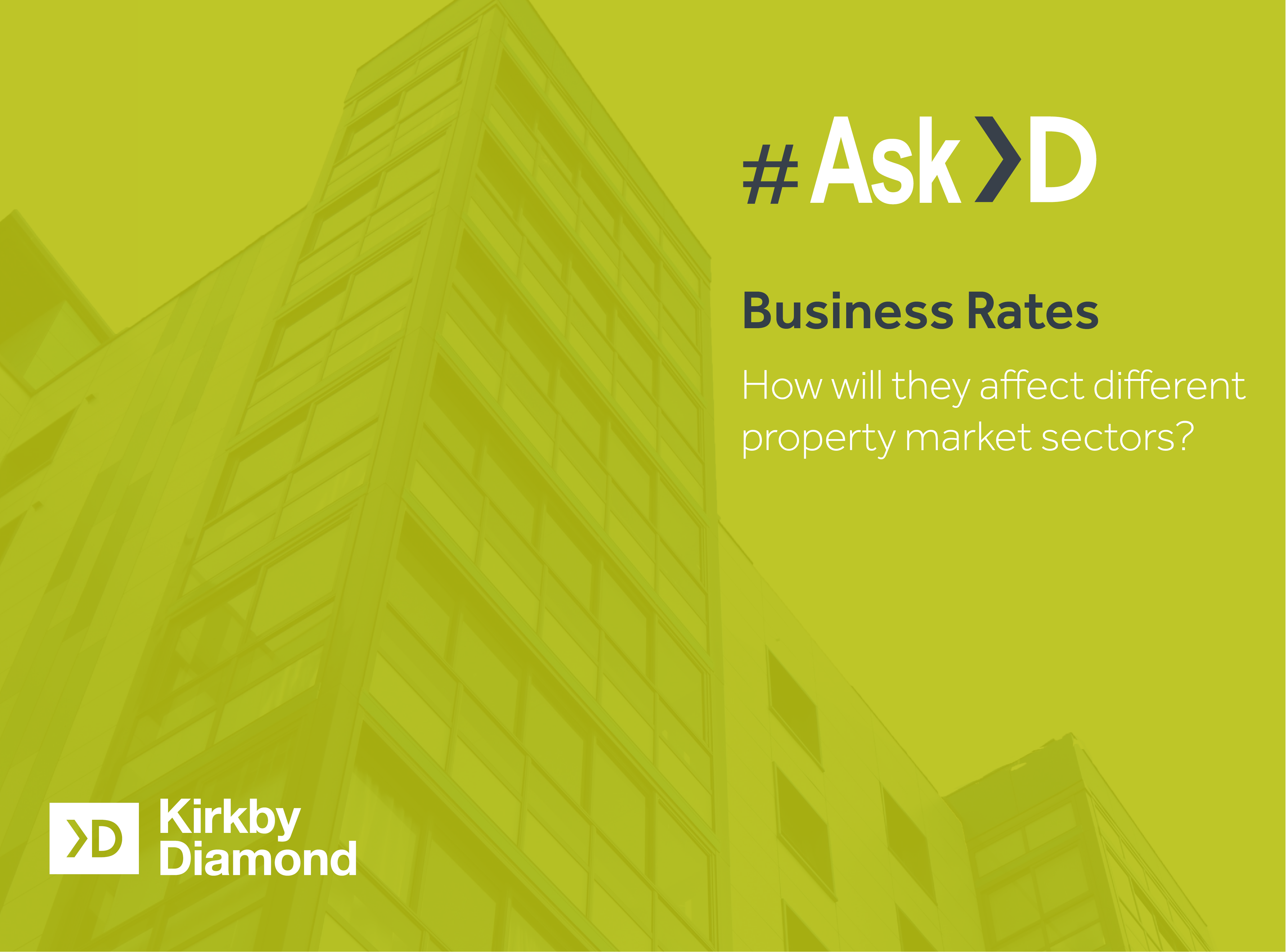 #AskKD - Business Rates - How will it affect different property sectors?
April 04, 2023
With commercial property occupier's financial performance having taken a battering over 2022 with rampant inflation, high fuel bills and rising running costs, 1 April 2023 may bring the start of fresh pain for occupiers in some property sectors with a Business Rates revaluation. We asked staff at KD how they think the revaluation will affect different property market sectors...


How do you think it will affect the industrial market?

Adam Smylie says: "With industrial demand outstripping supply and rents having increased between valuation dates, it unsurprising that some occupiers will be faced with an increased rates bill. The blow to occupiers has been softened through Transitional Relief and also the rates multipliers remaining the same.
One thing occupiers need to be mindful of before thinking of challenging their Rateable Value through the Check, Challenge, Appeal process is whether alterations such as mezzanines or extensions are included in the rates assessment, as a challenge to their rates assessment may also include additional space constructed since the last inspection and as a result lead to an even higher rating assessment".

Paul Quy says: "For occupiers looking to take new leases, the uplift in industrial rates may prove to be too great, coupled with other occupational costs, such as gas and electric. This may see some occupiers consider other locations as well as smaller or inferior buildings.  
We have also seen buildings that previously would have benefited from Small Business Rates relief now having to pay the Small Business Rate at costs of over £5,000- £7,000 for occupiers. This may see a two tier market develop for smaller industrial space where units that can benefit from full Rates Relief may achieve higher rents than those that don't, but only time will tell." 

How do you think it will affect the retail market?

Adam Smylie says: With retail and leisure demand falling and rents reducing post 2020 it is only fair that Rateable Values should, for the most part, reduce. With a simpler planning system due to the introduction of Class E in 2020, the high street is likely to change from pure retail space. We may see increased confidence amongst occupiers due to both lower rental and Rateable Values".

Chandan Teji says: " The new business rates announcement is very positive news for businesses in the retail, hospitality and leisure sectors. If you're eligible, you could receive 50% off your business rates bills for the 2022 to 2023 tax year (1 April 2022 to 31 March 2023) and 75% off your business rates bills for the 2023 to 2024 tax year (1 April 2023 to 31 March 2024).
The retail, hospitality and leisure sectors includes shops, restaurants, cafés, bars / pubs, cinema or music venues hospitality or leisure business such gyms, a spa or a hotel. I would urge all local business to contact their local councils to check eligibility criteria and apply as soon as possible". 

How do you think it will affect the office market?

Zack Berman says: "Office properties have seen an average increase in their rateable values of approximately 10%.
The new level of business rates coming into effect April 2023 will likely affect the office market. This could lead to businesses considering reducing their office space and or relocating to cheaper locations. Businesses may look to increase flexibility and utilise more co-working spaces in order to reduce their exposure to the higher taxes.
In this sector, London has seen the lowest increase in rateable values. The COVID-19 pandemic has had a large effect here, there were also higher increases in the East and South East, with the increases in the East driven by increases in value along M1/M25 corridor".