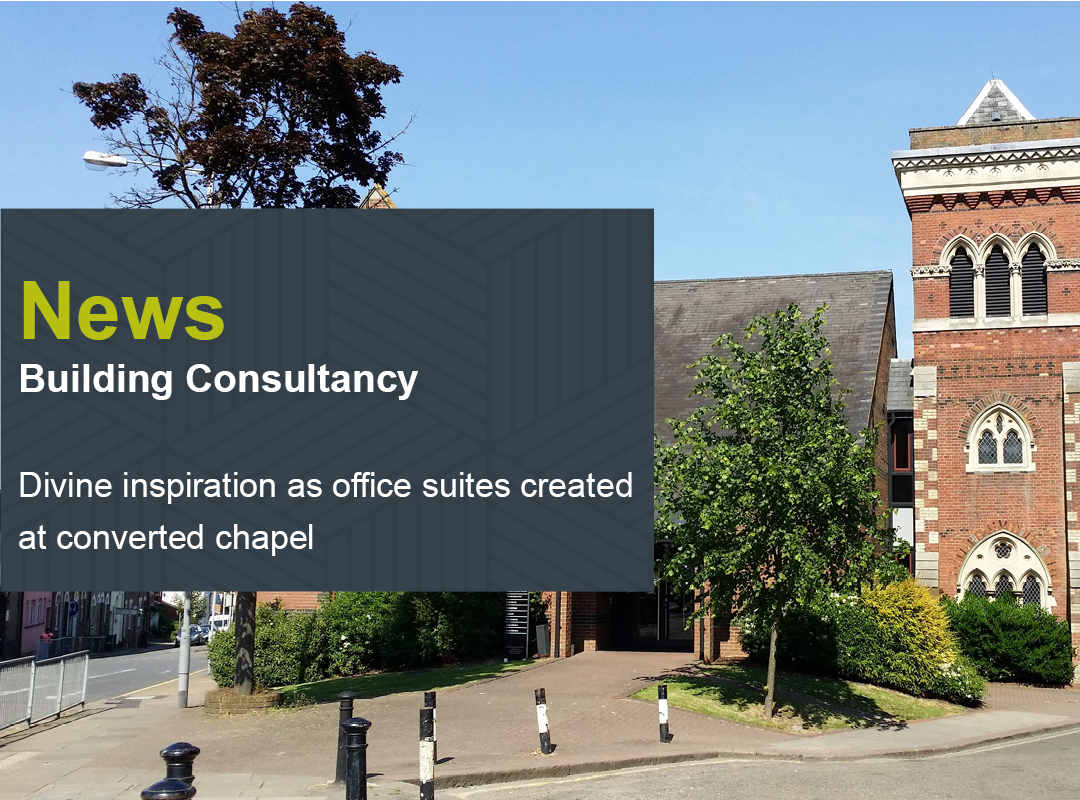 Divine inspiration as office suites created at converted chapel
July 15, 2021
Three new independent office suites, that could appeal to companies downsizing their operations as more staff work from home, have been created at a converted chapel in Luton.
Kirkby Diamond's building consultancy team delivered the eight-week project at Christchurch House, Upper George Street, which saw the complete refurbishment of existing office accommodation. The company was instructed by Dunstable-based landlord Chamberlain Holdings plc.
Kirkby Diamond executive partner and head of building consultancy Mark Pepper said: "This was an interesting project in which we created three high quality office suites on behalf of Chamberlain Holdings plc.
"In times when the market for office accommodation is difficult, it makes sense to offer the best possible space you can to the market, and provide flexibility in terms of size. Clearly, some businesses are downsizing their office accommodation, therefore being more amenable to clients' requirements will reap dividends."
He added: "It does appear to be common thinking that demand for office space will return soon as staff are brought back into offices. Therefore, whilst sub-division of office space is useful now, consideration needs to be made how these spaces could be reworked at minimal cost to cater for growing businesses."
Stuart Charlton, of Chamberlain Holdings plc, said: "Kirkby Diamond delivered this project for us on time and on budget and provided an excellent service. The offices in Christchurch House provide contemporary accommodation in a historic building full of character and the various sizes of suites available will appeal to a wide range of occupiers."
Kirkby Diamond were instructed by Chamberlain Holdings plc to deal with the building surveying matters after seeing the company's work on behalf of other clients.
Surveyor Lyanne Jacob, of Kirkby Diamond, who is currently marketing the vacant suites, said: "We are delighted to be instructed on such a unique office building providing a tasteful mix of old and new to deliver high quality accommodation for businesses looking to be central in the town.
"The addition of rarely available allocated parking, good transport links and all-inclusive rents and service charges allows for ease when deciding to relocate or expand your business. We have a variety of sizes available and all benefit from access to generous amenities.
"Kirkby Diamond was approached directly by Chamberlain Holdings plc to market this and other buildings within Luton due to successes on various other sites in their ownership. We continue to be key players in driving this area of the market despite the difficulties faced in the wake of the Covid19 pandemic. We are seeing a sharp increase in activity within the sector as confidence returns. Now is a great time to think about securing office premises as we only feel that competition will increase due to easing of restrictions."
Contact Lyanne Jacob, surveyor at Kirkby Diamond, for more information regarding lettings.
Email lyanne.jacob@kirkbydiamond.co.uk or call 01582 738 866.