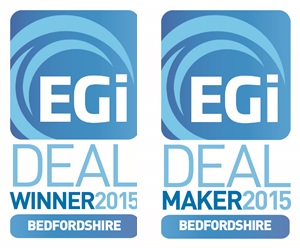 EGi - Award Winners 3 Years Straight
June 01, 2015
Double Diamond works wonders
Kirkby Diamond is once again celebrating being recognised as Bedfordshire's leading commercial property agents after clinching two prestigious awards.
For the third year running Kirkby Diamond was presented with the Most Active Agents in Bedfordshire award by highly respected national property publication Estates Gazette.
The company also won the Dealmaker of the Year award for Bedfordshire.
Eamon Kennedy, head of commercial agency group for Kirkby Diamond, said: "To collect two prestigious Estates Gazette awards demonstrates just how successful Kirkby Diamond has been in the past 36 months and in particular just how well the agency teams in Luton, Bedford and Milton Keynes work together to get the best results for our clients.
"It is also just reward for all the hard work of our Bedfordshire team of highly experienced chartered surveyors. We are widely recognised in the industry as the leading commercial property agents in the region, where we are enjoying continued growth, and it is great to see this confirmed in the form of two more awards."
Kirkby Diamond's agency team comprises seven agents with approaching 100 years of experience between them. Its strategically located offices in Luton, Milton Keynes and Bedford enable it to take a highly holistic viewpoint on all activity spanning the M1, A1 corridors of the northern Home Counties.
Kirkby Diamond has an agency team based in each office, which provides clients with on the ground feedback at the same time as being able to refer to the wider market with confidence.
To further enhance its collaborative approach and to ensure each office/agent is capitalising on relevant enquiries, Kirkby Diamond has invested heavily in a fully integrated web-based agency system; which enables it to manage clients' instructions more effectively.